Built on Industry Experience
We were inspired to build The Dealer Grid after years of firsthand experience in the industry. We've been in your shoes - because of this, we know exactly what your dealership wants and needs. With more than 40 years' experience in sales and F&I roles, coupled with outside experience in auto consultancy, we have an in-depth understanding of a dealership's operations - both inside and out.
Our Story
For decades, automotive dealers have struggled with the sourcing and disposing of pre-owned inventory.
Technological limitations, geographic distances, auction industry monopolies – all share one common factor: they held the auto industry back. This is no longer the case, thanks to The Dealer Grid. Never before has there been a service like this.
Our world is changing. Expedited due to the pandemic, we live in a world where efficiency is key. Time and money wasted can be the death knell of any business, and dealerships are no different. Our platform is built for maximum efficiency, in a way that is beneficial to both the dealer and the customer.
We started The Dealer Grid to create an alternative to the traditional inventory sourcing methods. We want to give dealers the ability to cut out the transactional fees and take control of their inventory, using our network of dealers to buy, sell, and wholesale inventory on demand.
Our innovative service allows dealers to adapt to the new normal, where consumers expect their wants and needs to be met at the click of a button. The wishlist feature, an "open call" to every dealer inventory in our network, allows for this same level of expediency on the back end. Furthermore, this system allows the auto industry to satisfy consumer demands, while also breaking away from archaic industry standards. Our industry experience has allowed us to build a forward-looking service that will be an industry mainstay for years to come.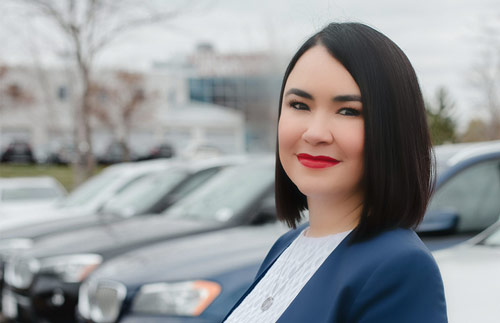 Meet the Founder
Stephanie Meyer has years of auto industry experience, with time spent in both sales and consultancy roles. Aside from her work in the automotive world, Stephanie spent 10+ years in the financial industry.
While working for top Wall Street firms such as Morgan Stanley and Merrill Lynch, she gained experience working in fast-paced environments where efficient, expedient decisions were key. Concurrent to her time in the financial world, she continued her role as an automotive consultant, sharpening her industry-specific skills.
While consulting, Stephanie saw an opportunity to improve the automotive world as a whole. This leads us to today, where Stephanie, having founded The Dealer Grid, makes her full-time return to the car business.